5 Questions with Jim Deitch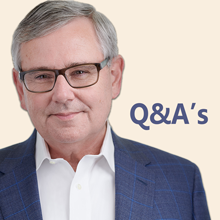 Published in: February 2019 edition. https://thescore.vantagescore.com/article/441/5qs-jim-deitch
Jim Deitch is co-founder and chief executive officer of Teraverde®. Previously, he was a co-founder, chief executive officer, and director of the American Home Bank division of First National Bank of Chester County. Under his leadership, American Home Bank was named one of the fastest growing private companies in the United States by Inc. Magazine and a top 50 national residential lender by American Banker and National Mortgage News. Mr. Deitch has served on the board of publicly traded and privately held banks and non-bank companies. He is a frequent industry speaker and best-selling author.
In 2018, he wrote the best-selling book "Digitally Transforming the Mortgage Banking Industry: The Maverick's Quest for Outstanding Profit and Customer Satisfaction." Its success was followed up by his most recent book, "Strategically Transforming the Mortgage Banking Industry: Thought Leadership on Disruption from Maverick CEOs," which is now available for sale online.
Not only is VantageScore proud to be listed in his latest book, we are honored to be speaking with Mr. Deitch for our newsletter this month.
1. In your mind, what constitutes being a maverick?
A maverick is a groundbreaker, a pioneer. The original Sam Maverick was a Yale graduate, from New England, who moved to Texas when it was a dangerous territory, worked hard and accepted risk to create a new State. Like Sam, today's Maverick takes calculated risks to grow, to invoke change. Like Sam, a Maverick is an initiator, someone willing to explore unfamiliar territory and try on innovative ideas when and where others are not. Just as Sam Maverick helped to create a Texas constitution, that was fair to all, mavericks today look for joint wins for the consumer, the company and the industry in an innovative, responsible and creative manner.
2. When you think back about how the mortgage industry has changed over the years, who stands out as the biggest mavericks?
I'll quickly mention three names of many important mavericks: Dave Stevens, former CEO of the MBA, united the industry to address regulatory, political and legal threats arising from the subprime meltdown. Bill Emerson of Quicken achieved outstanding customer satisfaction numbers eight years in a row and created RocketMortgage. Deb Still of Pulte Mortgage played key roles in Pulte, MBA leadership and MBA Opens Doors. There are more, and I've profiled many of the Mavericks in my books.
3. How does your book address situations like the Countrywide scandal where a maverick or "maverick-like behaviors" caused consumers significant harm? Are there lessons to be learned there?
Being a freewheeling buccaneer who takes excessive risks with other people's money and lives is the farthest thing from a maverick. A maverick's carefully calculated risks are the outcomes of thought innovation and idea exploration leading to a win/win. Let me be clear: during the 2005-2009 mortgage meltdown, a small percentage of mortgage executives allegedly engaged in irresponsible behaviors or, worse, allegedly knowingly engaged in illegal or deceptive practices. Those buccaneers sought their own benefit, not the maverick's mutual benefit for the consumer, the company and the industry.
4. Your book is a must-read for mortgage industry participants, but what are the broader lessons for those outside the industry?
The importance of transparency and fair dealing apply far beyond residential lending. While a few voices may decry our industry, 99.9% of mortgage participants strive to provide a competitive and appropriate product to serve consumers. Contrast that to a recent Wall Street Journal article on air travel that, in essence, concluded "Many airlines view their customers as adversaries, with exorbitant 'change' fees that have no relation to value provided, to dynamic pricing mechanisms that extort business travelers." I suggest that many airline executives could benefit by spending some time with executives from Quicken, Guild, SWBC and other mortgage company executives learning about customer experience and satisfaction.
5. There's a technology revolution occurring in the mortgage industry that some might say is way past due. What are some of the innovations that you are most excited and hopeful about?
Much of mortgage banking is still stuck in the world of forms and procedures. Mortgage banking needs to be about data and loan performance. 800 pages of stuff doesn't lead to good loan performance. Data driven analysis of loan performance is exciting. For example, work that VantageScore is doing to score more consumers is an example of true innovation. 
Resource: https://thescore.vantagescore.com/article/441/5qs-jim-deitch