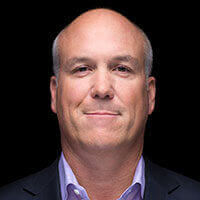 Bill Emerson
Vice Chairman of Rock Holdings Ltd.
Mr. Emerson serves as the Vice Chairman of Rock Holdings Inc., the parent company of Quicken Loans, the nation's second largest mortgage lender. Before becoming the Vice Chairman, Bill joined Quicken loans in 1993 and served with passion and commitment to helping customers. The strong leadership skills led Quicken Loans to become the largest retail mortgage lender and has closed nearly $300 Billion in home loan volume across all 50 states since 2013. Bill is a member of the Board of Directors of Xenith, Inc., the Detroit Economic Club, and The Parade Company and the Skillman Foundation.
From Bill Emerson
Every client. Every time. No exceptions. No excuses." He elaborated with, "You really can't live any other way if you're going to be in a retail lending environment … I think that the [industry] belief was that you really can't give high touch service in a centralized model. Frankly nothing can be further from the truth because, at the end of the day, it's really about how you how you treat a client, how responsive you are to that client.
The single biggest thing for us has always been culture, it's always about taking care of our people. It's simple, if we take care of our people our people will take care of our clients, our clients will take care of us. It's a symbiotic relationship that works very very well.
All one has to do is take a look at the millennial generation and the way that they consume information and the way that they interact to realize that if we don't embrace technology as an industry we are going to get left behind.
I can't emphasize enough how important culture is, and the mindset and belief system of 'every client, every time, no exceptions, no excuses.'
I think there's a massive amount of opportunity… it's just a matter of whether we look at it as opportunity or we look at it as challenges.
About Bill Emerson
Bill Emerson's transformative vision for mortgage banking is defined by technology—after all, he was right there at the start with Rocket Mortgage and then Quicken. His first priority in all things, however, is customer service. There are 'no excuses' for Bill Emerson when it comes to this key issue.
In one sense, his vision for achieving this manifests through enhancing culture—most famously through pithy aphorisms known as 'Quickenisms'—and encouraging a positive, customer-focused outlook across an enterprise. He also envisions and encourages a mortgage process engineered from the back-end forward, considering the entire process from loan servicing through securitization and forward to customer experience, with the high-end goal of retaining customer satisfaction post application.
In one very important sense, Mr. Emerson embodies a key characteristic of the maverick—he understands that even the most established individual or industry has to change perspective at times. Part and parcel of this is looking at challenges as new opportunities for transformation. Emerson's vision for the future of mortgage banking involves more outreach to college graduates, encouraging young people to embrace a career in mortgage banking rather than coming to it haphazardly.