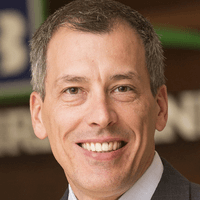 Ed Robinson
Senior Vice President, Head of Real Estate Lending at USAA
Mr. Edward Robinson is the Senior Vice President and Head of Real Estate Lending at USAA. Previously he led Fifth Third Mortgage. Prior to this role, he served as a Senior Vice President of Lending Servicing Operations and as Vice President of Origination. In addition, he has held positions in Genworth Financial and General Electric, where he was responsible for directing operations for the U.S. Mortgage Insurance business, leading strategic initiatives for long-term care insurance, and financial management and analytics.
From Ed Robinson
No matter what stage of life you're in, buying a home is a big decision. As Senior Vice President and Head of Fifth Third Mortgage, I help people achieve that goal. I oversee all mortgage-related functions, leading a team dedicated to putting customers first, enabling home ownership and contributing to our communities.
I was with a group of my peers and we all were of the mindset that LO comp has to change. Nobody wants to be a first mover or second mover. Everybody wants to be third in line for this. From a profitability standpoint, all you have to do is look at what happened with margins post Dodd-Frank. Clearly, an unintended consequence. Clearly an area that needs to be addressed."
The key is knowing how and when to engage with customers in the manner they want.
You've got to have 'off ramps' so that as soon as there's a question or a concern that you have the channels built so the customer can get the information when they want, how they want.
You've got to make sure that you have transparency. That means transparency in process, transparency of offerings, and transparency of progress to not only the consumer but to the key stakeholders such as the realtors.
It should not just be a point of sale contact nor should it be just an origination contact. It's got to be there over the entirety of the consumer life cycle. We have to make sure that the customer has a meaningful experience that not only attracts but keeps the customers.
Don't think like a mortgage banker. Think like a marketer or customer experience guy.
Really think about how to move the needle when it comes to digital experiences. Don't hesitate to look at what's going on in the Amazons of the world. Zappos, Alibaba, you name it. They are taking customer experience and meeting customer needs before the customer even realize it's a want or a need.
Whether it's the web, or if we bought a lead, or if they are a bank customer, the customer feels the same experience regardless of entry point. We have to make sure that that experience is the same across the continuum, and it really comes down to integrating data and offering an omnichannel experience [of the customer's choosing].
About Ed Robinson
I have the opportunity to work with Ed as student at UNC Business School. Ed is a competent resource very strong in Marketing and Finance, always willing to help his peers and never hesitated to take on more tasks on projects we were working on together. I would highly recommend Ed to any organization, with his due diligent and creativity will be a super assets.
Michael Trinh, MBA, Senior Managing Consultant/Architect at IBM Security
Ed Robinson, President of Mortgage Banking for Fifth Third, believes in the need for  maintaining an overarching vision in mortgage banking from origination through servicing. It all begins with customer engagement, with a focus on enabling the consumer's power through self-service. A top priority, too, is maintaining transparency throughout the lifecycle of the process. Streamlining the lending process involves creating a "shop by use" model for the customer, Robinson believes. At the core of Robinson's philosophy is the idea that, no matter the way in which a consumer approaches a lender, the response should be the same.
Robinson views "right sizing" the compensation for LOs as a central issue for the industry moving forward. This is part and parcel of an approach best defined as "managing differently." Another key element in Mr. Robinson's transformative vision for mortgage banking involves engaging with customers "in the manner they want." This of course involves leveraging transformative technology with Millennials and generations to come.
Looking to tech innovators in the retail space is key for Mr. Robinson, as well, as these thought leaders, in his words, "really know how to move the needle" when it comes to the digital consumer experience. Mr. Robinson also envisions a process that has human touch throughout the sales cycle, with a long-term goal of maintaining relationships.