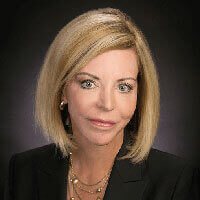 Debra Still
Chief Executive Officer and President of Pulte Mortgage LLC
Ms. Still is the Chief Executive Officer and President of Pulte Mortgage LLC. She has been serving the mortgage industry for more than four decades. Her background has allowed her to take many roles in Pulte Mortgage LLC. She was an Executive Vice President of Loan Production; Corporate Secretary, and Chief Operating Officer and is a member of the Board of Directors. Ms. Still served as Chairman of the Residential Board of Governors at Mortgage Bankers Association and was the Chairman of the Mortgage Bankers Association in 2013. She is currently is a member of the MBA's Board of Directors and the Chairman of MBA's Opens Doors Foundation.
From Debra Still
I stay energized by our industry's mission to support housing in America. We facilitate safety and stability for people. Our industry builds neighborhoods and communities, and we create jobs and fuel economic growth. We work on the front lines serving the dream of homeownership.
It's all about connecting vision and purpose—after all, the joy of home ownership should get you out of bed in the morning.
Pulte Mortgage uses an affiliated builder business model. Our lead generation comes from the parent company's business, and we offer the value of "one-stop" shopping to the consumer. We have a fulfillment center, and our origination function aspires to offer the best product, price, relationship and experience to our homebuyers. Our loan officers are not on commission. We pay a base salary and offer incentives for outstanding performance in capture rate, customer service and quality. We do this because our originators are not actually sourcing the business.
You could argue that builder affiliates and other affiliate relationships were the very first consumer-direct models. Today, Pulte is still unique because we've centralized everything, including the origination function and use technology to facilitate the application and manufacturing processes.
Studies show that consumers prefer the convenience of a "one-stop" shopping experience. In recognition of this model, Zillow and other realty firms have recently announced they're entering the mortgage business. Much like other affiliate models, the realty companies are trying to package the sale of the home and the sale of the mortgage.
About Debra Still
Deb Still's maverick vision is defined by clarity and frankness. Post-crisis, she believes that, while not all mortgage bankers were the "bad guys", it behooves the industry to take accountability and make it right for consumers moving forward. Working for the consumer is at the heart of her philosophy, and she believes that future technological innovation should work hand in hand with a borrower relationship defined by emotional attachment. Technology should ultimately serve the customer experience, in Deb Still's book. The offer of 'one-stop' shopping should be the goal across the industry, Still believes, but not at the price of losing human touch in the mortgage process.