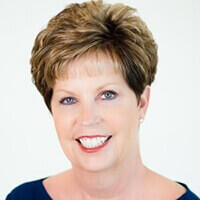 Julie Piepho
President-National Operations – Cornerstone Home Lending, Inc.
Ms. Piepho is President-National Operations of Cornerstone Home Lending, Inc. She has over 40 years of experience in the Mortgage Banking Industry. In her career, she has led teams of sales and operations to a successful outcome, through her strategic planning and handling organizational changes. She has received from MBA both the Andrew D Woodward Distinguished Award and the Schumacher-Bolder Award, in addition to being named a 2018 Women of Influence by HousingWire Magazine. Outside of work, Julie has a passion for volunteering at the Fort Collins Cat Rescue/Spay Neuter Clinic where they pair kittens and Alzheimer's patients together for an afternoon of love and naps!
From Julie Piepho
[On getting started in the industry] – To be successful I need to own this. Every morning I did all the things Harvey McKay told you to do.  Everyone knew who Jule Piepho was because she was out there building relationships.
New housing stock is affected by land availability, the cost of building, the lack of skilled construction labor, and the cost of permitting. We've also got the myth of the 20 percent down payment requirement. We have to help customers find and document the source of down payment for a 5% down loan, and show the customer that it can be done.
Learn, learn, learn, learn.
Be passionate.
About Julie Piepho
Julie Piepho envisions a future for mortgage banking that considers multiple approaches when addressing shelter needs. The new realities of the economy and the consumer herself will continue to reshape what the consumer wants, according to Piepho, and this will lead the industry in unexpected directions. At the core of Ms. Piepho's leadership philosophy is thinking outside the box. After all, not every consumer or family aspires to homeownership in the traditional sense, and the industry needs to understand renter and alternative housing needs. Ms. Piepho also believes that the new thought leaders of the future in mortgage banking will be those who can learn from any experience and have a true investment in the mortgage process and the consumer.