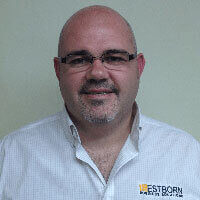 Martin Kerr
President of Bestborn Business Solutions
Mr. Kerr is the President of Bestborn Business Solutions, the company behind Loan Vision. Martin has experience in this industry and has a focus in creating efficiencies in the workflow process of the mortgage industry. Before his position at Bestborn, he was a project and business system manager for Technical Plastics.
From Martin Kerr
My views come from my background in manufacturing and I was a process engineer. It was all about doing things efficiently and getting an understanding of every single step of what you do has to be there.
About Martin Kerr
Martin assisted with overall ERP Implementation. Martin built implementation time line, action plan and framework for system implementation. Martin helped bridge system implementation to our operation and assisted with improving our overall business processes. Framework Martin built with system, and also outside of system, has greatly helped our organization since we began working with him. Most importantly, Martin is a loose enough to make stressful times (such as an ERP Implementation) fun and enjoyable (or at least less painful). I would recommend Martin to assist with building strategy, time line, and action plan for ERP System Implementation, as well as overall execution. Neil Blewitt COO at TruFood MFG.
Neil Blewitt COO at TruFood MFG