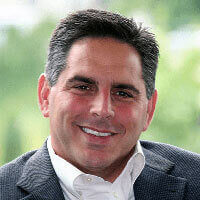 Jerry Schiano
CEO of Spring EQ
Chief Executive Officer with over twenty-five years of entrepreneurial experience in the mortgage industry, including founding and leading multiple lending organizations. Mr. Schiano founded (1999) and served as CEO of Wilmington Finance Inc., which grew into a top-15 originator of Non-Agency residential loans. Mr. Schiano sold Wilmington Finance to American General Finance, in 2002 and continued to manage the Company through 2006. Mr. Schiano went on to found New Penn Financial in 2008. New Penn was sold to Shellpoint partners and in the second quarter of this year Shellpoint and New Penn announced that they would be sold to NRZ. Currently, Mr. Schiano is founder of a new venture focused on direct-to-consumer home equity originations, Spring EQ.
From Jerry Schiano
Treat customers fairly, work really hard and make sure you provide them great customer service.  We get to see them fulfill their dreams.
If you look at an underwriter in a conventional first mortgage business, they do two loans a day. In managing that business, I don't understand that. Is it the legacy requirements of the secondary market? And the agency investors? Is the industry just unwilling to change?
There's too much complexity. The products are different, and guidelines constantly change. You have to do something differently than a year ago. You have to do something different for jumbo investors.
There's never been anyone who says, 'I love my origination system'.
About Jerry Schiano
Jerry Schiano, as the founder of Spring EQ, is a key thought leader in the space of second lien lending. He sees a space for second lien as banks begin to diversify their product offerings and expand their credit boxes. For the industry as a whole, Schiano's vision can best be summarized as "simplify." Schiano sees too much complexity, be it in products or guidelines, and encourages more consensus and more unified protocols across the industry moving forward. Technological innovation in the space as offered by companies such as Blend is central to creating this consensus. Through technological transformation, Robinson believes, the industry can streamline a mortgage process that is seamless and more productive for the industry as a whole.